Advanced Driving – Learn the skills of police advanced drivers from Chris Gilbert,
Specialist advanced driving instructor who covered over a million miles teaching police officers advanced 999 and pursuit driving in all weather conditions, by day and night in perfect safety – thanks to his skill and the police driver's manual – RoadCraft.
These advanced driving DVDs are no longer available on Amazon. They are only available on this website and will be here for many years to come.
DVD features : Wide screen 16.9 – TV–style presentation – Professional quality – PAL format – Menu that lets you choose which section to watch.
The main reason for making these DVDs is to pass on some of the knowledge and experience Chris has gained working at the 'cutting edge' of police advanced driver training at the world famous
Metropolitan Police Motor Driving School Hendon
with the aim of improving driving standards and road safety in general.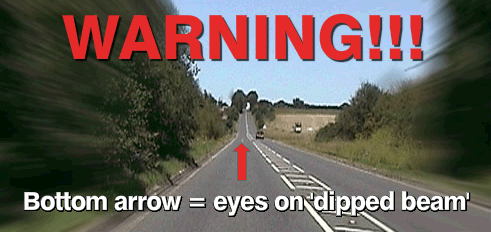 Ultimate Driving Craft DVDs have been a huge success having sold worldwide to drivers in 39 countries and includes:
Police Driving Schools in the UK & Australia, Canada, New Zealand & United States of America. Fire & Rescue Services, Advanced Driving Groups, Ambulance Services, Government Departments, The DSA, RoSPA, Royal Mail, Road Safety Officers, driving instructors, driving enthusiasts, new drivers, advanced drivers and those aspiring to become such. International shipping is available. 
"During three decades, we've attended courses on advanced driving and watched countless videos on the subject, but none has inspired us like Chris Gilbert's Ultimate Driving Craft DVD series. Whether you're new to driving, need a refresher course, or are working hard to improve your driving to a very high standard, Chris's programmes offer priceless advice and a clear demonstration of all that's needed to become a highly perceptive and safe driver. Worth every penny"
Nigel & Lynn Watts-Plumpkin, Powys, Wales.
"Chris, have received the full set of DVDs, and I have learned a lot through the instruction given. I must say I am very impressed with what you cover in your driving, and highly recommend them to anyone who gets behind the wheel. If every driver viewed these DVDs and put even 10% into practice, our roads would become a lot safer and driver frustration will dramatically reduce too!"
Eddy Suckling New Zealand
"Hi Chris, I purchased your three DVDs a few weeks ago, in order to improve my commentary and observation – my observer reckoned my eyes were not on full beam enough. I have watched your DVDs from start to finish quite a lot and I practiced hard. Yesterday I passed my IAM test with a FIRST and I scored 1s in every category. I just wanted to say Thank You for your help, I've enjoyed getting my 30 years of driving (& bad habits) lifted to a far better standard, and a lot of it is down to your advice"
Martin. Sept 2019
Ultimate Driving Craft 1. Commentary
For more than 70 years UK police driving schools have taught commentary driving as a means of developing a high visual driving horizon. The result for the driver is more information, more time to assess, more time to act, superior hazard perception skills and unhurried polished driving; the hallmark of the UK police advanced driver. In this DVD I will explain and demonstrate, in easy stages, the best method of teaching yourself commentary driving building from basics up to police advanced level.
However, this DVD is not just about commentary driving. It also covers town and city driving, motorways, country roads, bad weather driving, making safe progress, positioning and much more, all delivered with a detailed, informative, instructor's commentary.
"I took my IAM Special Assessment yesterday and thanks to your help in your DVD I carried out a running commentary all the way through, the examiner was quite pleased to say the least. Thanks for sharing your wealth of experience with the likes of me"
Clive MacLennan.
Ultimate Driving Craft 2. Day & Night
FACT – There is a greater risk of dying on a rural road!
More deaths occur on rural roads than on urban ones. On rural roads in 2014 there were 980 fatal incidents, 8,175 serious injuries and 36,148 minor injuries; a high percentage of those involved were new and young drivers. There is 58% greater risk of dying on a rural road than on an urban one or on a motorway. Rural roads are generally more winding and often have tight and deceptive bends where good judgement of speed & distance is required together with the skill of reading a bend so the approach speed is not too fast and, the driver has the ability to stop if necessary without drama. We never know what is waiting for us around a blind bend!
I have found that even experienced drivers preparing for an advanced driving test are weak in assessing bends, frequently compressing the system at the approach followed by a hurried gear change, being in the wrong gear or even braking into a bend. Reading a bend is a skill – a skill that needs to be practiced and mastered!
In this double DVD, I will unlock the mysteries of the police method of cornering, explain and demonstrate, in detail, how to read a bend so that the correct approach speed is achieved every time. Guesswork is replaced with a tangible means of assessment resulting in very accurate approach and entry speed without rushing or compressing the system and importantly; so that the driver can stop within the distance seen to be clear.
This is the only DVD I am aware of that fully details how to read a bend, aided by slow-motion and graphics, also, Security advice for women driving alone at night who feel they are being followed.
Some of the other subjects covered are: Night Driving, Overtaking and a Friendly follow.
In addition, there are three chapters of commentary driving using a Honda Jazz, Vauxhall Insignia 2.0d and a BMW 730d auto. These chapters are loaded with information, advice and recommended driving techniques.
Total Double DVD run time: 160 minutes with listed chapters to dip in and out of as required
" I watched your latest DVD last night and I had to drag myself off to bed at 1.45am. Some good learning sections for breaking it down for training purposes; thought the way you describe driving through bends – brilliant". TC.
Ultimate Driving Craft 3 Eyes on Main Beam
This is a double DVD set, and features advanced graphics and animation. Chris is particularly pleased with the high quality animation which will set new standards for driving DVDs. Run time is 140 minutes.
You will see the highlights of Chris driving one of his favourite fast Hendon advanced car course routes through five counties – Berkshire, Buckinghamshire, Oxfordshire, Wiltshire and Gloucestershire. There is a picture-in-picture view from a second camera of Chris behind the wheel so you will see steering and every single gear change, his application of the system of car control and more importantly, the timing of such.
You will also see a Central London drive with the second camera facing the rear. The editing company have reversed the image and positioned it as picture-in- picture and mounted it where the rear view mirror would be – very clever!
"I've viewed the new DVD 3 and it's excellent. I particularly like the section on timing of appointments into a junction or bend as arguably this is one of the hardest but crucial parts of advanced driving to master. The clever animation is an excellent training aid in demonstrating this and I shall look forward to viewing the DVD over and over again!" TW
Austria

Australia

Belgium

Bulgaria

Canada

Cyprus

Denmark

France

Germany

Gibraltar
Holland

Hong Kong

India

Isle of Man

Israel

Italy

Jersey

Kuwait

Luxembourg

Netherlands
New Zealand

Norway

Philippines

Poland

Portugal

Qatar

Ireland

Israel

Russia

Saudi Arabia
Singapore

South Africa

Spain

Sweden

Switzerland

Trinidad

Turkey

USA